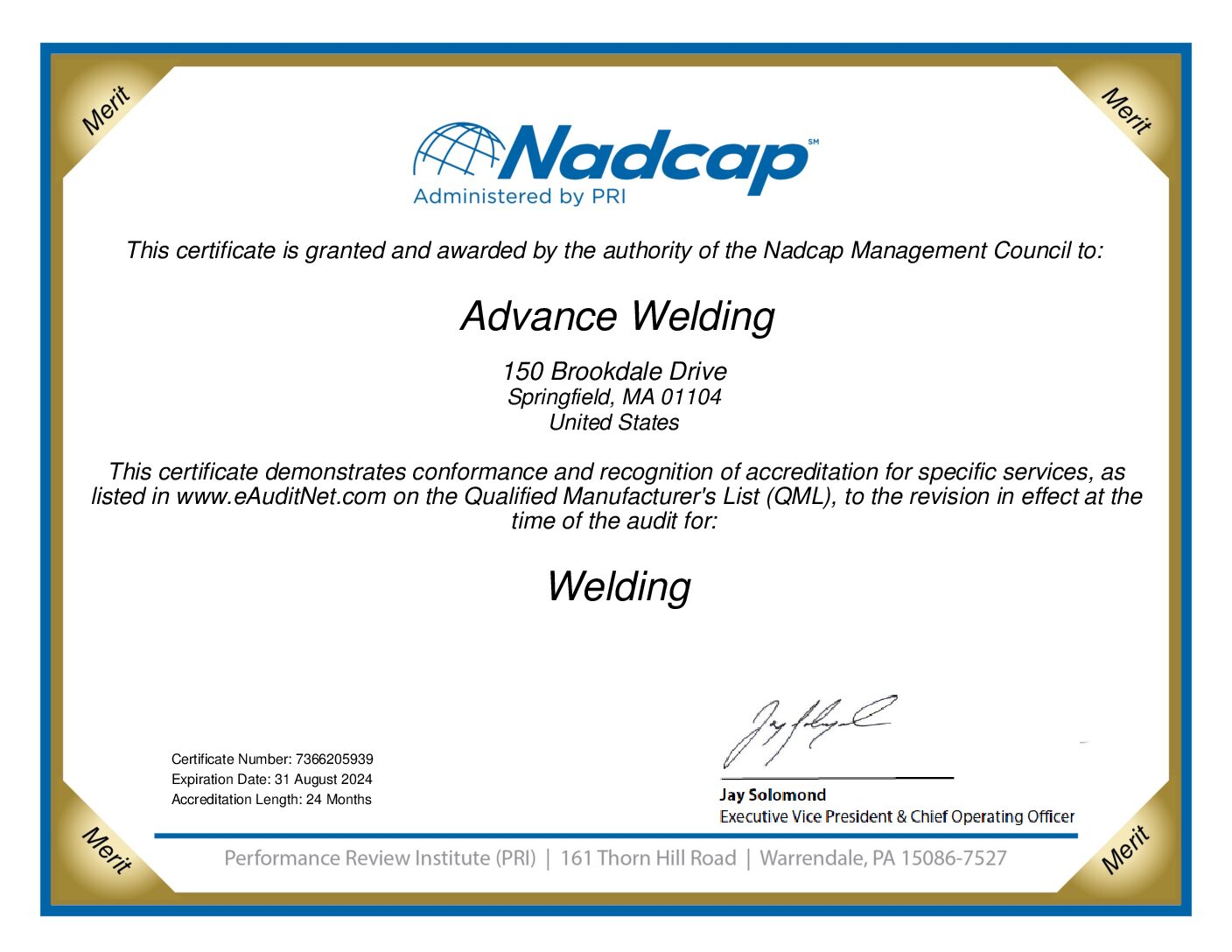 Welcome to Advance Welding
For over four decades Advance Welding has served its clients with the highest quality aviation and mil-spec brazing services.
Advance Welding provides Aerospace Nadcap Accredited Brazing services to Mil-Spec Standards including MIL-B-7883.
Advance Welding provides brazing of steel, stainless steel and copper alloys.
The Aircraft Brazing Methods Performed at Advance Welding include:
Torch Brazing
Induction Brazing
INTERESTED IN NADCAP, AEROSPACE AND MIL-SPEC WELDING? LEARN ABOUT OUR WELDING  SOLUTIONS HERE!
SCOPE OF ACCREDITATION
Advance Welding
150 Brookdale Drive
Springfield, MA 01104
This certificate expiration is updated based on periodic audits.  The current expiration date and scope of accreditation are listed at : www.eAudiNet.com – Online QML (Qualified Manufacturer Listing).
In recognition of the successful completion of the PRI evaluation process, accreditation is granted to this facility to perform the following:
AC7110 Rev F – Nadcap Audit Criteria for Welding/Torch and Induction Brazing and Additive Manufacturing (This is required for all Welding/Torch and Induction Brazing and Additive Manufacturing audits) 
AC7110/1 Rev H – Nadcap Audit Criteria for Brazing (Torch/Induction)
Baseline (All audits)
Supplement A – Torch (Additional requirements)
Supplement B – Induction (Additional requirements)
Supplement G – Processes using gas (Additional requirements)
Supplement H – Processes using Flux – (Additional requirements)
____________________________________________________________________________
Nadcap Certified Brazing (Torch and Induction)
Brazing per MIL-B-7883, Type I & III
Brazing per AWS C3.4
Brazing per AWS C3.4 (Raytheon)
Brazing per AWS C3.4 (General Dynamics)
Brazing per AWS C3.4 (Hamilton Sundstrand-UTAS)
Brazing per AWS C3.5
Brazing per AWS C3.5 (Hamilton Sundstrand-UTAS)
Certified Quality Systems
Nadcap
AS9100
ISO9001
FAA Repair Station
European Aviation Safety Agency (EASA) certified
ITAR (DDTC) registered
General Dynamics
Collins Aerospace (Hamilton Sundstrand) (UTAS)
Pratt & Whitney Canada
GE Aviation
Parker Aerospace
Raytheon
Below are Aerospace Brazing Examples