Laser Beam Welding Services
Advance Welding(formerly KTI, Inc.) performs high-precision Laser Beam welding for a wide variety of applications. Utilizing CNC motion control, we produce the highest quality welds for medical devices, automotive applications, sensor assemblies, and more.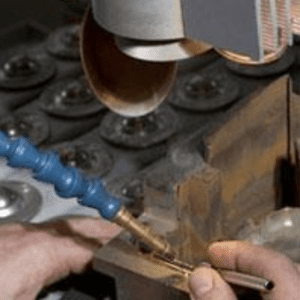 Our equipment is comprised of an IPG 2kW Continuous Wave Fiber Laser and a LaserStar 7000 Series Pulsed Laser. Motion is controlled via 4 axis CNC along with a high-performance galvanometer scanner.
Our engineering staff is eager to assist you in joint design and material selection to fit your needs. We offer value-added services, prototype to production lot sizes, multi-shift operation, and In-house tooling capabilities.
Examples of Our Work
Advance Welding's metal joining expertise includes welding on common and specialty metals that include:
Carbon and Alloy Steels (Ex.: A36, 1018, 1020)
Heat Treatable Alloy Steels (Ex.: 4130, 4140)
Stainless Steel (Ex.: 304, 316, 410)
Precipitation Hardenable Stainless Steel (Ex.: 13-8Mo, 15-5PH, 17-4PH)
Nickel and Nickel-Based Alloys (Ex.: Monel 400, Inconel 625, Hastelloy X)
Precipitation Hardening Nickel & Nickel-Based Alloys (Ex.: Monel K500, Rene 41, Inconel 718)
Non-Heat Treatable Aluminum Alloys (Ex.: 5052, 5083, 5086)
Heat Treatable Aluminum Alloys (Ex.: 355, 356, 6061)
Magnesium Alloys (Ex.: AZ31B, AZ91A)
Titanium Alloys (Ex.: Grade 2, 6Al4V)
Copper Alloys
Cobalt-Based Alloys (Overlay, Hardfacing)
Advance Welding has significant experience welding on these types of components:
Combustion Cases
Combustion Liners
High-Pressure Turbine (HPT) Cases
Low-Pressure Turbine (LPT) Cases
Aviation Ground Support Equipment
Aviation Bearing Seal Assemblies
Aviation Engine Handling Fixtures and Tooling
NAVSEA Ship Components
Ground-Based Turbine Components
Aircraft Engine Components
Laser Welding Capabilities
Industry Focus
Aerospace
Automotive
Medical Devices
Electronics
Government Laboratories
Industrial
Defense
Oil & Gas
Power Generation
Sensors
Telecommunications
Vacuum Equipment
Laser Welding Applications
Medical Devices
Tools
Sensors
Advantages
Higher Welding Speeds
Minimal Distortion
Minimizes Secondary Operations
Precise Control Over Penetration
Minimized Tooling
Depths
Min
.002 in
.051 mm
Max
.200 in
5.08mm
Industry Standards
Work is done to Individual Customer Specifications.
Nadcap Accreditation
Welding Operation
Automated
Semi Automatic
Manual
Additional Services Provided
Tooling and Fixturing
Research and Development
Engineering
Weld Process Development
Weld Joint Design
Material Selection
Evaluation
Sectioning
Etching
Microscopic Evaluation